Here is the TRUTH that I have accepted and hopefully you will accept soon…
The TRUTH is that the only way to achieve optimal health is to align everything in your life towards a hormonal homeostasis
Your hormones are at the core of your body's ability to perform and kind of metabolic process…to really perform everything. They play a vital role in determining your mood, your physical ability, your cognition, even your digestion…
Everything is either directly or indirectly controlled by your hormones. They are basically your body's powerful messengers. Unfortunately, the health and fitness community is not in line with this or simply doesn't realize it! They're all focused on vanity… on simply getting bigger arms or chiseled abs. It's a shame that people go after those pursuits blatantly in the face of their health.
What's even worse it that they will often leverage fake hormones – like anabolic steroids – to achieve these goals…
On top of that, they end up wrecking their hormones in the process by doing crazy crash dieting and eating in a way that does NOT support hormonal homeostasis and training in a way that is completely counterproductive to their health!
This is why I created the THOR program…
What Is The THOR Program?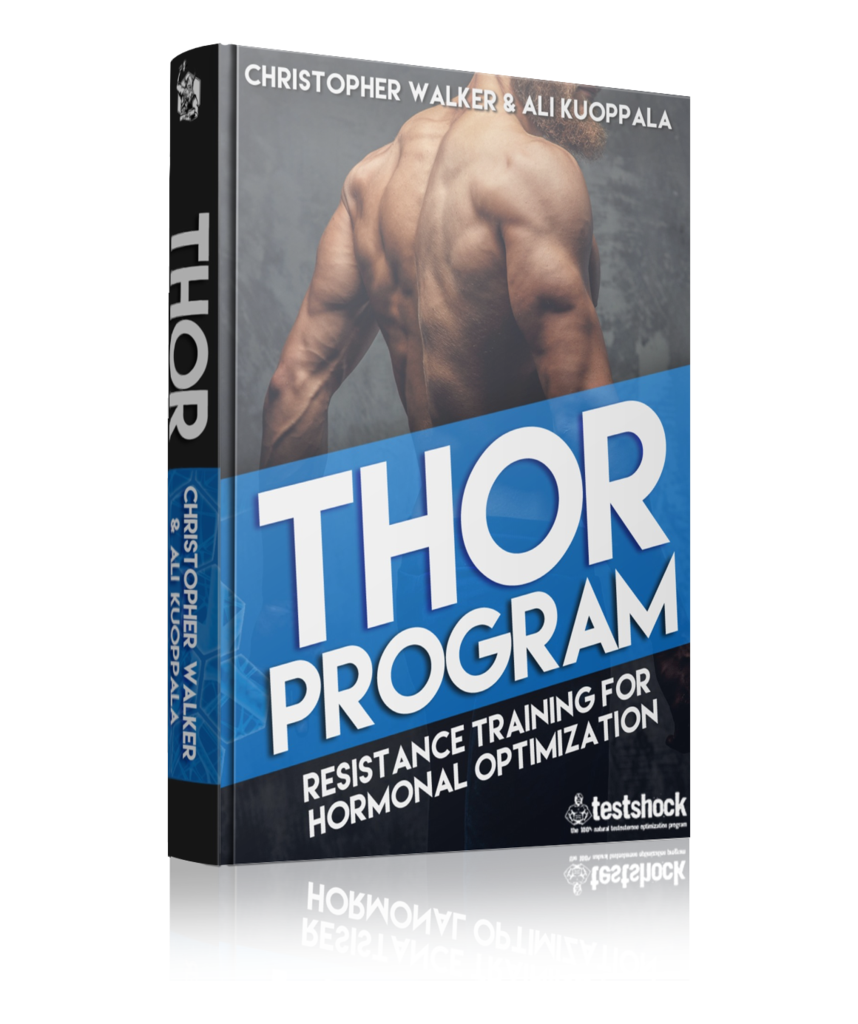 THOR stands for Testosterone Hormonal Optimization Resistance Training. I consider it to be the next step beyond the TestShock Program. The TestShock Program is designed to help you address your foundational health as a man – how to eat the right way, live the right way, what to avoid, what to focus on, that kind of stuff…
My focus for the past few years, personally, has not been in weight training. It has mostly been in leveraging calisthenics and weighted calisthenics for the neuromuscular benefits. I've seen amazing customer testimonial stories from people who have used this, but there were always a ton of requests from people wanting me to show a more advanced system and how to leverage NM training in the weight room.
In starting the development of the THOR program, I knew I wanted to show guys how to leverage the weight room and use NM training for their benefit so they could optimize the amount of Testosterone and Growth Hormone output in their body.
I went the the "drawing board" to put down ideas…I looked objectively at what exists in the fitness industry and what exists outside of the fitness industry…
Through vigorous research, studying, and personal experimentation, I developed what I believe to be the most optimal hormonal workout program – The THOR Program.
This is hands down the complete & best way to train your body…
It is designed specifically using power movements and having a strength progression with those power movements to facilitate an adaptive response in your muscle tissue.
Most people exist in the "Comfort Zone" section of this arrow, and they will never leave. They get mediocre results and never change. The middle is where neuromuscular training is…
Between "Comfort Zone" and "Neuromuscular Adaptation" is the sweet spot – It's where you get the Optimal Hormonal Release.
When you force your body to adapt to a stimulus, especially consistently over time, the only way your body knows how to adapt to this physical stress is through releasing hormones. This is known as your body's "drive to survive". The THOR program is designed to leverage this "drive to survive" in a positive way. You put your body under enough stress to elicit a strong hormonal release. This positive hormonal release for men is mainly Testosterone and Growth Hormone and is achieved while training in the NM adaptation "zone".
It's also crucial you don't go too far down this stress threshold or you'll go into the "Injury" and burnout zone. When you train too much over too long a period of time, your body is going to have a negative stress response to that training. This zone is where the majority of endurance athlete who experience chronically elevated cortisol live…
It is commonly acceptable that you have to activate as much muscle tissue as possible in the shortest amount of time as possible to optimally increase Testosterone from training... this is known as the Testosterone Work Principle. The THOR program goes one step forward and looks at what kind of muscle tissue you are activating….
Your body biologically has more androgen receptors in certain muscle tissue groups than in others. For men, a lot of these androgen receptors reside in the upper body. THOR is a very specific workout program that is designed to elicit an adaptive hormonal response in the muscle tissues with the highest amount of androgen receptor density. So you are going to be increasing your testosterone and growth hormone (which are androgens) in the muscles that have the most androgen receptors (shoulders, arms, and chest).
Here is what makes THOR even more unique…
Your lower body has a large amount of actual muscle tissue which will can translate into a lot of testosterone production through big movements. Unfortunately, there is research showing that regardless of how much you train your lower body, you'll never be able to increase the androgen receptor density in those muscle tissues…
HOWEVER – you can actually increase the androgen receptor density in your upper body. So you can have more androgen receptors available in your upper body for the elevated level of Testosterone and GH released using the neuromuscular training in THOR.
What I've done with the THOR program is designed a method that constantly forces a hormonal release every single lifting session, while also allowing you to recover to ensure that you never go over that stress threshold. So everytime you do go to the gym you are increasing your lifts and strength progression.
We do this by using less volume in terms of overall training throughout the week to allow for the necessary recover, however, the sessions themselves are extremely focused on optimizing the hormonal release in these androgen receptor dense muscle areas.
You are forcing that adaptive change because without an increase in strength, you are going to fall back into the "comfort zone".
This program is designed to release as much T and GH as possible in androgen receptor dense muscle tissues AND increase the androgen receptor density in your upper body.
More courses from the same author: Christopher Walker