LEARN HOW TO CREATE BEAUTIFUL & ARTISTIC IMPLIED NUDE PORTRAITS
DO YOU WANT TO CREATE BEAUTIFUL IMPLIED NUDE ART PORTRAITS BUT NOT SURE HOW TO GET STARTED?
NOT SURE HOW TO POSE AND DIRECT A MODEL FOR FLATTERING AND ELEGANT RESULTS?
WANT TO LEARN LIGHTING OPTIONS?
Steph and I teamed up in this series to create a practical, hands on guide to artistic implied nude portraiture. We show you dozens of poses and lighting combinations that will have you up and running in no time. We take you from easy poses and available light options, through to complex and advanced posing and lighting set ups.
Steph has worked as a professional model, including nudes and implied nudes for over 5 years, and I have worked as a professional photographer shooting the same for over a decade. Together we walk you through the process on both sides of the camera; from the photographer's perspective as well as the model's. No matter what your experience or role in the creative partnership is, you are sure to learn a lot from this series.
We have included a dedicated segment in which Steph answers viewer questions from the point of view of the model.
YOU WILL LEARN
POSING
One of the hardest aspects of portraiture is knowing what poses look nice, and this is especially challenging with Implied Nude Portraiture, as you need to carefully position everything to ensure the final image remains 'implied'.
Throughout the series you will learn over 50 different poses – including tips on how to get into the pose, make adjustments and guide your model.
HOW TO 'REVEAL AND CONCEAL'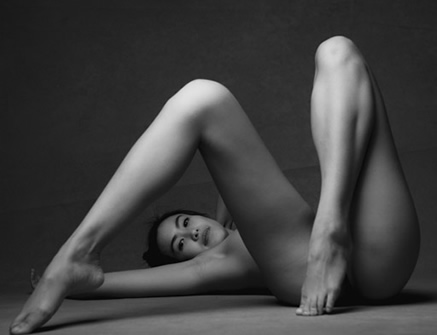 Learning which elements to 'Reveal and Conceal' and your options to do so, is fundamental for crafting great Implied Nude Portraiture. Giving the illusion of nudity, without including nipples or genitals in the final image can be difficult at first.
We walk you through all of the options including posing, lighting, camera angle, obscuring accessories and more.
SURPRISINGLY EASY POSES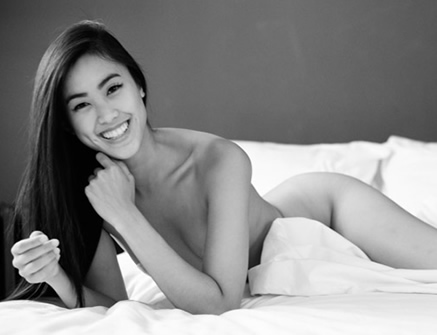 Some poses yield beautiful results and give the illusion of nudity whilst allowing the model to be completely clothed. Both images to the left demonstrate this.
In photo 1, Steph was wearing a strapless bra and panties, and in photo 2 she was wearing a complete 1 piece bodysuit.
Knowing the requirements of each pose before you shoot takes out the potentially awkward trial and error, and allows you to confidently direct your model.
PHOTOGRAPHING MEN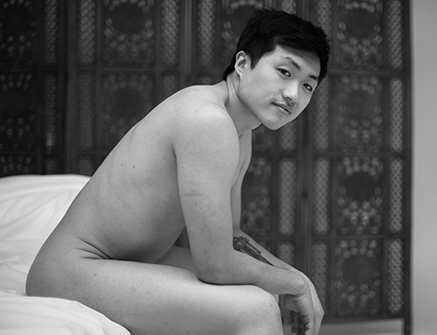 Shooting with men presents its own challenges, especially those without experience as a model.
We shoot with a non model, for his first time posing nude, and talk you through the different challenges and options that it presents.
We show several poses that work well for solo men, that are not too challenging for beginners, and show tips on how to effectively keep his 'bits' out of the final images.
We also have a debrief after the shoot where he shares his experience and insights from the other side of the camera.
DIRECTING THE MODEL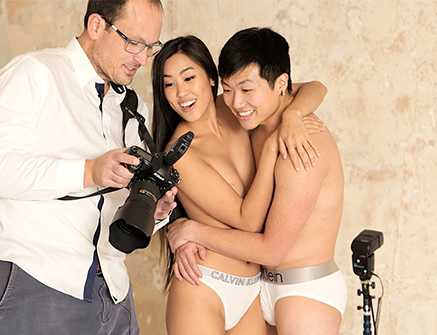 It takes confidence, trust and professionalism to create artistic Implied Nude portraits. Knowing the result you are aiming for, the lighting options and the nuances of the pose will give you the confidence to direct the model and develop a trusting relationship.
Throughout the series I show you what to do, as well as what to avoid, to direct your model and create a comfortable vibe on set.
Seeing Steph and I go through the process to create each image, will give you a fast track to creating your own stunning images.
YOU DON'T NEED EXPENSIVE LIGHTING TO CREATE BEAUTIFUL IMAGES
Knowing how light and shadow works is more important than having the latest and greatest equipment. I show you how to evaluate the available light, and what your options are. Some shoots are completed with just available light, others using cheap manual flashes, reflectors, diffusers and through to more expensive studio equipment.
Matt explains the gear used in each shoot, as well as his top tips for creating the right light and shadow to 'reveal and conceal' as desired.
Implied Nude Portraiture VIDEO SERIES IS FOR ANYONE WHO…
Wants to create beautiful Implied Nude portraits
Wants to learn how to work with models
Has trouble realizing their vision in the final
Wants to be able to evaluate the available light and work out what their options are
Wants to create beautiful Implied Nude portraits
Wants to learn how to work with models
Has trouble realizing their vision in the final
Wants to be able to evaluate the available light and work out what their options are
More courses from the same author: Matt Granger