What you'll learn in How to Make People Fall in Love With You Flirting Course
In this highly-specialized course you will learn the fundamentals of flirting such as:
How to expertly time texts
How to keep people interested and get them hooked
How to be captivating and interesting to others using a very simple, basic formula that is foolproof, reliable and very easy to use
How to make people feel sexy and excited in interacting with you and keep their attention forever where they won't want to leave the conversation
How to avoid making those big flirting blunders that turn people off and cause them to ghost you and lose interest
How to get people to fall in love with you in just a week (this is NOT an exaggeration, if you follow the information provided in this course, they will fall in love with you in a WEEK)
And so much more. This 2-hour long course will help you master all the basics of flirting and will get you primed for understanding what people WANT from you in flirting and make them desire you.
About #lovepilled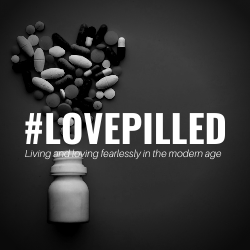 Are you tired of the same old slanted, biased and subjective "advice" that seeks only to further frustrate and confuse both men and women in their relationships? Are you tired of the "battle of the sexes" and want straight talk and objectivity in relation to your love life?
Here at the #lovepilled page I provide a no-nonsense, practical, useful and 100% unbiased advice approach on love, sex and relationships that cuts through all the madness you find in every other "pill" community on the web. I have a "tough love method" applied to my daily content and information that is truthful, thorough and just logically makes sense. Men and women today need a fundamental basis of knowledge and understanding in their roles/intersexual behavior in terms of their relationships and how to find love.
What you will learn here:
How and why clearly defined masculine and feminine roles are crucial to relationships
How to "game" others and why you should at the very least know how to execute game
How to be a man in order to attract desirable women
How to be a woman in order to attract desirable men
What you're doing wrong with the opposite sex in the modern dating marketplace and how to fix it
Why you're not getting sex as a man and what you must do to be more attractive to women
Why you're not getting commitment from a man and why you need to be commitment-worthy if you desire commitment from a high value man
Sign up today and find the relationship YOU deserve.
About me:
My name is Jenny and I'm a 44-year old wife married 18 years strong and a mother of 3 children who enjoys helping men and women realize their full potential in love and relationships.
More courses from the same author: Lovepilled
DELIVERY POLICY:
When will I receive my course?
You will receive a link to download your course immediately or within 1 to 21 days. It depends on the product you buy, so please read the short description of the product carefully before making a purchase.
How is my course delivered?
We share courses through Google Drive, so once your order is complete, you'll receive an invitation to view the course in your email.
To avoid any delay in delivery, please provide an Gmail and enter your email address correctly in the Checkout Page.
In case you submit a wrong email address, please contact us to resend the course to the correct email.
How do I check status of my order?
Please log in to DatingCourse account then go to Order Page. You will find all your orders includes number, date, status and total price.
If the status is Processing: Your course is being uploaded. Please be patient and wait for us to complete your order. If your order has multiple courses and one of them has not been updated with the download link, the status of the order is also Processing.
If the status is Completed: Your course is ready for immediate download. Click "VIEW" to view details and download the course.
Where can I find my course?
Once your order is complete, a link to download the course will automatically be sent to your email.
You can also get the download link by logging into your DatingCourse account then going to Downloads Page.
You may also like: