Description Of The Money Lines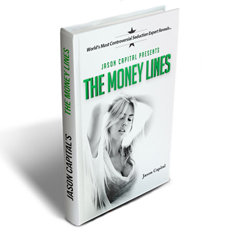 In this system, Jason Capital offers 50 ways of saying the right things to women. It is designed to help men become witty, spark attraction in women, and never be without the perfect thing to say.
Includes a 14-day trial to Masters Of Dating program and mastering the art of attracting and seducing high-level women.
Table Of Contents/ List Of Topics Covered:
Eye contact responses
Answering the age question
After the first kiss money line
What to say when a girl is getting out of line
What to say when she brushes against you
What to say when you see her staring at you
An answer when asked how you and a girl know each other
What to say when standing next to a girl at a bar
How to react when another guys is trying to talk to your girl
Handling drink and alcohol related questions
Responding when she wants to know where you are going
Making out in a bar on the first night you met money line
Responding to her question about her weight
How to react when she's checking her make up in a mirror
Words to use when leading her into your apartment building
Responding with cool calmness when she tells you what she does
What to say when she starts asking for personal information about you
Assume the guy she's with is her brother and play that into the conversation
Using comedy to balance vulnerability when revealing something embarrassing about yourself
About Jason Capital
Jason Capital is a former dating coach who was known as "America's honest dating coach". He released many online products and has helped over 100 000 men improve their lives with women. He is also the author of the book "Status", a topic that he heavily focused on in his dating products. It's also the central theme of his annual live event, the "High Status Summit".
Jason has since turned his attention to helping people live the "laptop lifestyle" by earning money online. His business continues to grow and Jason has established himself as one of the top young entrepreneurs in the United States today.
More courses from the same author: Jason Capital