Internationally Acclaimed Dating & Sex Expert David Wygant Reveals…
15 Dirty Little Secrets Guaranteed To Turn ANY Woman On Sexually — And Give Her A Mind-Blowing Orgasm — ALL In The FIRST Phone Call…
Listen As I Demonstrate This LIVE… Then Show You Step-By-Step Exactly HOW You Can Do This — With Any Girl, ANYTIME — From The Comfort Of Your Own Home…
Phone Sex REVEALED!
Listen As I Allow You To Eavesdrop — UNCENSORED And UNCUT — To Two Of the HOTTEST Phone Calls You Will Ever Hear, As I Lead 2 Women Into Uninhibited & ORGASMIC Sexual Arousal…
…And Then Take You By The Hand & Show You EXACTLY How You Can Do This With ANY Woman — Even In The VERY FIRST Phone Conversation!
I don't just tell you what to do so that you can turn women on over the phone ON COMMAND…I show you step-by-step exactly how to have women begging to want to meet you in person and f*ck your brains out.
What you'll learn in Phone Sex Breakdown
Here's just some of what you'l learn in this one-of-a-kind program: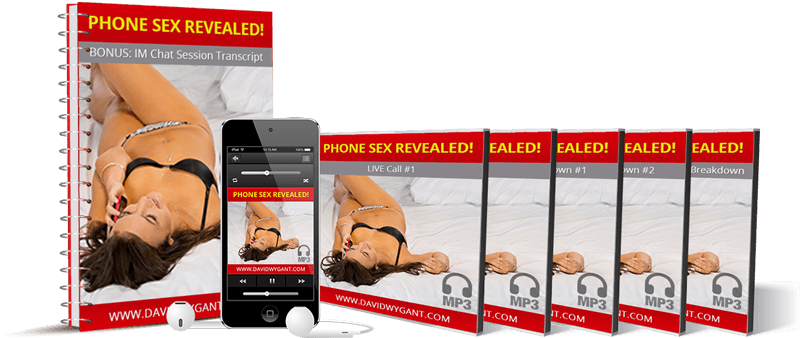 EXACTLY what women feel emotionally
Learn how they are wired sexually
How to make a woman feel safe so she will let out her inner "naughty girl"
How to make phone sex feel like it was her idea
How to make her feel comfortable if/when she's nervous so that she will totally let go of her sexual inhibitions with you
How to get ANY woman sexually aroused over the telephone
How to give women screaming orgasms over the phone
Exactly what to say to turn a woman on sexually over the phone…and how to lead her to that sexual place she wants to go
The ONE SECRET TECHNIQUE that will have women calling YOU the next day begging to come over and see you
The biggest mistake 97% of men make that will cause them to fail every time they try to initiate phone sex with a woman…and how to never make this mistake yourself
The #1 way to get women to open up sexually with you
And much, much more!!
More courses from the same author: David Wygant