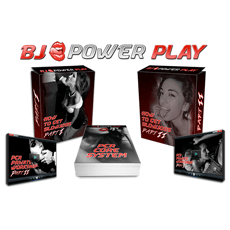 Brain Burke has created a step-by-step system to get oral sex from women. It is designed to make a woman obsessed with wanting to you give you a blowjob. It also explains what men do that turns off a woman's desire to give oral sex.
"BJ Power Play" is based on three triggers to use in order activate a woman's desire to pleasure you with her mouth – Power-Flux, Framing, Inclusion
The system also helps you to get a woman excited about doing the freaky stuff you really want.
Table Of Contents/ List Of Topics Covered:
How to build unstoppable sexual confidence
A shortcut to get a woman sexually excited fast
Using 'inclusion phrases' to turn BJ's into a bonding activity
Scripts to make a woman orgasm while giving you a blowjob
Becoming the kind of man women naturally want to go down on
How to ensure a woman never loses her excitement for giving you oral sex
A mind-trick to make her laugh while implanting thoughts of giving you oral sex
Techniques to comfortably steer conversations towards blow jobs without being awkward
Explaining the concept of 'permission', and framing your manhood as a trophy she earns
Case study #1: steps used to transform a timid, beautiful brunnette into a blowjob fanatic
Bonus items include:
The ER Cycle (video)
Raw Interview with Maria
Private coaching session
Black Book of Dirty Tricks
Private PCR Workshop (videos)
Collection of real-life case studies
How To Get Blowjobs: Female Psychology
More courses from the same author: Brian Burke